Rooftop HVAC Unit and AC Service, NY
Consider installing a rooftop unit for commercial heating and cooling needs. Rooftop units are extremely adaptable, allowing for the integration of solar panels and other high-energy-efficiency choices. Rooftop units have a tough design and casing that protects them from even the worst weather. Make a good impression on employees, tenants, and potential customers by keeping your local business property comfortable. With our high-quality rooftop services, Bluco Mechanical is glad to assist your business endeavours in succeeding.
Bluco Mechanical can assist you in keeping your equipment up and running, whether you require quick service or routine maintenance. Bluco Mechanical collaborates with its clients and products, providing a range of services to tailor the solution to their individual requirements. Our team will identify the solution that meets you where you are today and where you want to be tomorrow, whether you're trying to optimise ago and extend the life of current equipment or drive efficiency and IAQ into every element of your organisation.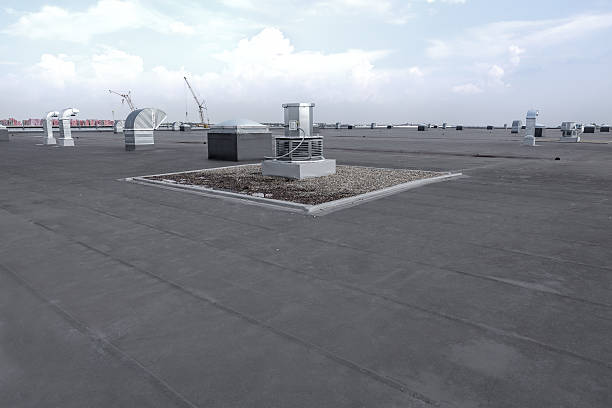 Rooftop Unit Installation and Replacement Service, Nyc
Bluco Mechanical has extensive expertise installing and replacing rooftop units. We'll make sure your HVAC system gets off to a good start and is ready to properly and effectively heat and cool your commercial area. You can expect years of dependable heating and cooling service in New City, NY, with a professional, high-quality installation.
Having a rooftop unit placed on your commercial property has a number of advantages. All of the equipment of rtu roof top is consolidated on the roof, making it simple to service, reducing space, and removing any eyesores from your storefront. Enjoy all of the benefits of a high-quality HVAC system while keeping your commercial property clean and clutter-free.
In Favor of the Rooftop Air Conditioner HVAC
Rooftop HVAC units are not only a cost-effective project and space-saving option to heat and cool your home or office. We are glad to offer rooftop HVAC systems to both residential and business customers at Bluco Mechanical. A rooftop system, unlike split systems that separate the air conditioner and heating unit, is packed to include both the air conditioner and the heating system. Here are a few benefits to consider when deciding whether or not a rooftop HVAC system is good for you: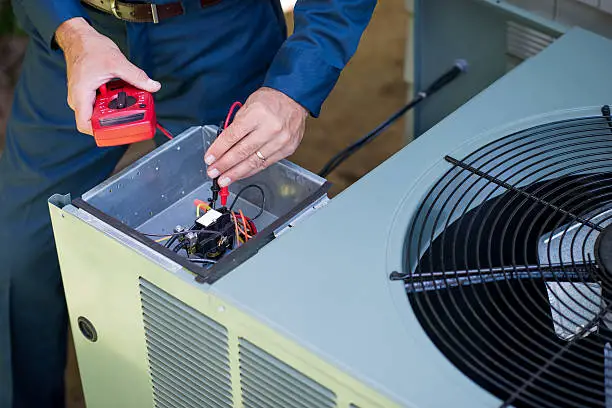 Easy installation
Maintenance is condensed to one unit
Save space within and around your property
Units are quieter than split systems
Units are energy-efficient
Air is distributed from the top-down instead of having to be pushed from the ground-up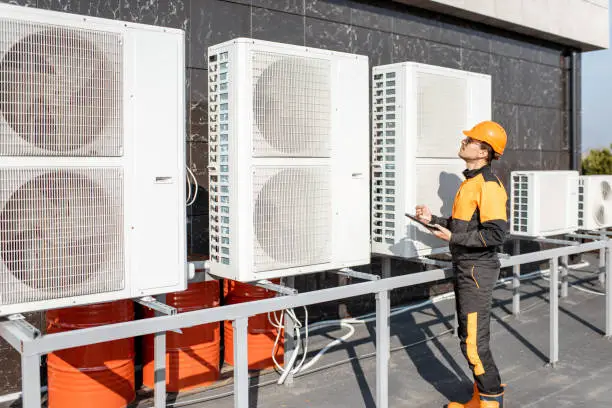 If you're not sure if a rooftop HVAC system is ideal for your home or business, the commercial hvac professionals at Bluco Mechanical can advise you. All sorts of HVAC units have been serviced by our experienced and trained specialists. Our experts are always available for support to answer any questions you may have and will work with you to find the perfect unit for your property and needs. Bluco Mechanical is your one-stop shop for all of your residential and commercial Rooftop HVAC system repair and installation of ac needs in NYC and NJ.
Professional Rooftop HVAC Unit Maintenance and Repair Service, NYC
Regular, expert maintenance, just like any other heating or cooling system, is the best way to keep your rooftop unit in peak working order. Regular maintenance of your HVAC equipment by skilled specialists assures that your system engineering will not only perform properly and consistently, but also efficiently. To schedule professional maintenance, call Bluco Mechanical immediately. To ensure the proper operation of your rooftop unit and ac, we'll tighten electrical connections, clean filters ,systems chilled water, inspect ductwork for damage, and perform a variety of other chores in rtu hvac. We can ensure that your unit install is not harmed in any way by doing so.
While professional maintenance can help limit the need for repairs to a bare minimum, your rooftop unit will eventually need to be repaired for vrf systems packaged. When this happens, it's critical that all repairs are done by trained personnel for water systems ductless. Don't put your safety in the hands of untrained people. Bluco Mechanical has nearly three decades of experience and a solid reputation as a rtus trustworthy service provider, so you can count on us to provide new york city's high-quality, dependable service. To learn more about the heating and maintenance services available in your area, give us a call now.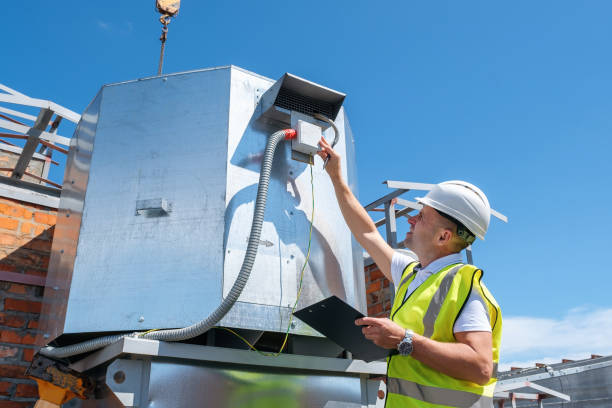 Commercial Package and Rooftop Units Repair and Installation, New York
Are you short on space? Commercial package and rooftop units combine the air conditioning, heating, and air handler into a single unit on the building's façade. You may also put the unit on a flat roof for office buildings and businesses to save even more room for commercial air conditioning.
Benefits of Commercial Rooftop Units and Indoor Air Quality
Small and large enterprises alike are increasingly turning to commercial package and rooftop units. Because of their numerous advantages and space-saving features, they are ideal for a variety of architectural types. To find out if this air conditioning unit is the right fit for your building, contact Bluco Mechanical now.
Quieter
Instead of surrounding your company, keep these air conditioners on the top. In certain cases, huge units near a back door or retail entrance upset personnel and consumers. The packed rooftop units keep the annoying noises away.
Easy Maintenance of RTUs
One of the most appealing features of these machines is their ease of maintenance. Technicians or site employees can easily keep up with preventative maintenance with all the components in one area and all the units on the roof.
Saves Space
Not every building has side access for several compressors and air handlers. Components of commercial packages and rooftop units are moved from the ground to a more efficient position on the roof.
Improved Air Quality
Rooftop units often use external air to chill the indoors. This improves building ventilation and humidity control for indoor air quality. Better control and happier customers or staff with a humidistat.
Improved Energy Efficiency
Rooftop units offer SEER and AFUE ratings and several energy-saving features. This allows you to control the temperature and air systems chilled in a smaller section of your building. Instead of operating the entire system, you can adjust the timeline.
Secure from Damage
The security of rooftop units is another major factor for their popularity. Keep our system secure from vandalism, theft, and destruction by placing it on the roof of your building rather than on the ground level, where it is vulnerable to foot and car attacks.
How Long Do Rooftop Units Last in Farmingdale?
Rooftop units, like all HVAC systems, have a lifespan ranging from 5 to 20 years if properly maintained. You can extend the life of your investment by maintaining regular servicing according to manufacturer guidelines.
You may discover that a newer model is more energy efficient and saves money than your current business package and rooftop units when you analyse your options for hvac installation hvac. It might be time for a new system if the energy savings outweigh the cost of replacement.
How to Service a Rooftop AC
The ease of maintenance and service is one of the major advantages of commercial package and rooftop units. Because all of the components are on the flat roof, the experts do not need to enter your building. Furthermore, all of the units are centralised (on the top!) so that technicians can access everything at once without disrupting business or office operations.
Check the Air Filters Often
Every air conditioning system's initial stage of maintenance is air filters. Keeping them free of debris boosts the unit's effectiveness and improves the air quality in the room. The air flow in commercial package and rooftop units keeps the coil and heat exchanger at the proper temperature to prevent ice formation and proper vaporisation of the liquid refrigerant.
Clean the Drain Lines
If your packed unit is also responsible for managing the humidity and air quality in your business, you must ensure that the drain lines are free of obstructions at all times. While a clogged drain line may be a contributing factor to elevated temperatures, it is largely responsible for removing water vapour from the air and lowering humidity for chilled water systems.
Inspect & Replace Drive Belts
To keep the temperature maintained, the belts must remain at the correct tension without fraying or splitting, much like any other device with a fan and motor. The motor and bearings wear out rapidly when the strain is excessively tight. Belts slip and groove the pulleys when tension is lost, causing severe damage to the system in the future.
While belts should be replaced once a year, excessive temperatures and unit usage may necessitate more frequent replacements. By preventing unnecessary wear and tear, this type of maintenance considerably extends the life of your HVAC system.
Lubricate Motor & Bearings
Maintaining lubrication of the motor and bearings prevents components from seizing and breaking down, causing severe damage to other sections of the system. The manufacturer's instructions will state how often these features should be serviced, but the benefits of planning ahead for preventative maintenance much exceed the risks of skipping these steps.
If you and your team are too busy to keep track of the specs for your facility's numerous commercial package and rooftop units, contact Bluco Mechanical to set up a maintenance agreement or service contract to prevent emergencies from occurring.
Dependable Rooftop Unit Service and Engineering
Call Bluco Mechanical if you're interested in a commercial rooftop unit installation. We have the necessary expertise and training to complete any work you require. Please let us know how we can assist you. We'd be delighted to assist you with making your commercial space more comfortable, efficient, and presentable. With the help of Bluco Mechanical's HVAC experts, make a positive impression on your clients, tenants, and employees.