Bluco Mechanical is the place to go for PTAC repair in Staten Island, NYC.
PTAC Repair in Staten Island
A PTAC, or Packaged Terminal Air Conditioning unit, is a self-contained heating and cooling system similar to a window unit. PTAC units are typically single-room temperature solutions, but because they are larger than window units, they are capable of warming and cooling larger rooms and spaces in a more cost-effective manner.
PTAC systems are typically inexpensive and ideal for spaces where individual rooms require temperature control, such as hospitals, hotels, nursing homes, dormitories, and residential buildings. PTAC units are typically extremely dependable and will last for many years. They will, however, require repairs from time to time. Bluco Mechanical is here to help when your PTAC unit requires a little extra attention.
Bluco Mechanical is able to provide fast and dependable PTAC repair in Staten Island,  New York City. When you call us for PTAC repair in Staten Island we will most likely be able to fix any problems with your PTAC unit while we are on the job. If your unit requires more extensive repairs, we will return it to our Manhattan service center on East 9th Street. Any equipment we return to our service centers can be repaired and returned to you within two to three business days, eliminating the need for you to go weeks without heat or air conditioning.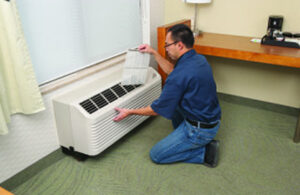 Choose Bluco Mechanical for all of your PTAC Repair and HVAC needs in Staten Island
For over 50 years, we have been providing high-quality PTAC repair in Staten Island and its surrounding neighborhoods. Since our inception in 1960, we have always prioritized our customers and their needs, which is why we will always conduct a thorough cleaning assessment of your unit and recommend the most beneficial and cost-effective PTAC repairs for you.
We take pride in being the best NYC PTAC repair company, a title we've earned by remaining steadfast in our commitment to providing reliable maintenance and repairs.
In Staten Island, we have the best PTAC unit repair and maintenance equipment available.
Simon-Aire, a New York City-based company that manufactures new and replacement PTAC units, parts, and accessories, manufactures all of our PTAC wall units. Simon-Aire uses cutting-edge technology to create high-quality heating and cooling solutions, which is why they are the only PTAC manufacturer we trust. Their units are also backed by an industry-leading two-year warranty on all parts and labor, as well as a four-year warranty on the compressor component of your PTAC unit. That's up to six years of coverage in case something doesn't work properly.
Make an appointment for your PTAC repair and services needs in Staten Island today.
Don't be alarmed if your PTAC unit isn't highly working properly. Contact Bluco Mechanical, and we'll have your equipment back up and running in no time. We can usually repair any problems with your PTAC unit on-site during our visit; however, if your equipment requires additional repairs or cleaning, we can handle those in our Manhattan service center within two or three business days.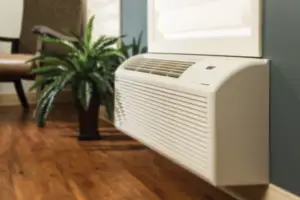 Call Now