Manhattan, NY HVAC Services | NYC Repair & Replacement Service
Why Us?
Why Choose Us? Bluco Mechanical is the company to call if you need assistance with HVAC system repairs and replacements, whether it be a furnace, boiler, ventilation, or PTAC unit. We can provide full HVAC maintenance service and repair services because of our Manhattan and NYC expertise and high-quality tools. Not only that, but we prioritize the quality of our services and the happiness of our clients above all else. We guarantee that our HVAC technicians will meet your needs promptly and to your satisfaction, no matter how big or small the job. To learn more about what Bluco can do for you, please get in touch with us immediately. You can also refer to multiple review sites to see for yourself that we politely score higher than the average HVAC service company!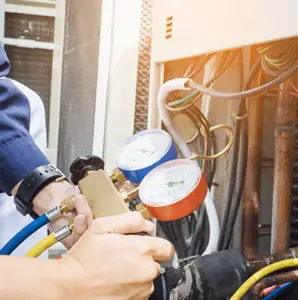 HVAC Services
If you live in the NYC or Manhattan area, you know how crucial it is to have a working furnace during the cold months. A broken HVAC system on a chilly winter day can be a major inconvenience. Loss of heat can be especially dangerous for young children and the elderly, and there is nothing worse than waking up in a cool house on a cold morning.
Whether you need installation, furnace repairs, or a replacement, our average review score is 5 stars and the HVAC air conditioning repair specialists at Bluco Mechanical can help you decide. Contact us now!
HVAC service | NYC Furnace Repair & Installation
Bluco Mechanical and its team can provide excellent HVAC services for every size including both commercial and residential furnaces. Our service team is available 24 hours a day, seven days a week. Phone us immediately!
Heating, Ventilating, Air Conditioning Services | Furnace Isn't Working Properly?
A broken furnace is one of the worst problems a homeowner can have. Unfortunately, though, every homeowner will have to deal with heating system maintenance concerns at some point. While you must have your furnace serviced as soon as it stops operating, there are a few warning signs that can help you identify potential problems ahead of time and potentially save a more costly repair or replacement.
What are the top 10 most frequent issues with furnaces? Let Bluco's knowledgeable staff shed light on the situation.
1. Broken thermostat
A malfunctioning thermostat is a typical cause of furnace breakdowns. If the fan in your home is always on, yet the thermostat is set to a steady temperature, something is wrong. This will drain the battery in your thermostat and make your heating system less effective. To make sure, put the heater on auto and check to see if the fan keeps operating.
2. Filters that are dirty and clogged
If your furnace's filter is dirty or clogged, it won't be able to draw in as much air as it needs to. Your limit switch may also be harmed as a result. If you want optimal performance out of your filters, you should replace them every three months.
3. Flickering, weak, or erratic pilot light
The health of your furnace depends on the steady glow of its pilot light. If it's yellow or flickers, it could be a sign of too much carbon monoxide in your gas furnace. An HVAC specialist should be contacted before the pilot light is adjusted.
4. Heat Exchanger with Cracks
This is an expensive problem, sadly. The heat exchanger in your furnace prevents the air you're heating from coming into contact with the flame, keeping everyone safe. Your heat exchanger may break if you overheat your home or if you don't change your air filters regularly. If your furnace stops working, you should have it checked out as soon as possible. In most cases, the heat exchanger will need to be replaced.
5. Broken or frayed fan belt
To keep your furnace's fan turning, your blower belt is a vital component of the engine that drives it. Sometimes these will begin to fray or break, which is unfortunate. The high-pitched screeching noise produced by your furnace when this occurs is a telltale sign. If you want to get the most out of your fan, you should change the belt.
6. Over-cycling
Do you find that your heater keeps turning on unexpectedly, even right after it finishes a cycle? If that's the case, perhaps your filter is blocked, your airflow is restricted, or your thermostat settings are off. A higher energy bill is the result of a furnace that cycles on and off frequently.
7. Bad Limit Switch
If your limit switch is malfunctioning, your furnace may blow even when it isn't supposed to. A technician is needed to replace it, unfortunately.
8. Heater Not Working
There are a few possible causes for this problem. The most important thing is to keep the blower free of obstructions so it can do its job. After that, check to see if your blower has a blinking light. If the light is red and blinking, you probably need to hire a professional to help you fix the problem.
9. Ball Bearings that Have Seen Better Days
The ball bearings in your furnace's motor keep it turning smoothly. They can wear out over time and eventually need replacing. Any time your furnace begins making a scraping noise, it is time to call in a professional for service.
10: Your furnace is making rattling or pinging sounds
Is your heating system making strange noises like popping or pinging, or maybe even rattling? Numerous problems could contribute to them. Loose panels on the furnace often cause rattling sounds and should be tightened. The ducts are probably the source of the pinging or popping sounds. No matter if you're using it to heat or cool your home, it will expand and contract accordingly.
We offer services for air conditioning furnaces, boilers, PTAC units, and more! Call Today For Info.
Manhattan Furnace Repair Maintenance Service | Benefits
There can be no delay in attending to this essential part of your house. Choosing whether to repair or replace your furnace is not something to put off until the cold weather has set in. Maintaining your furnace in the summer or fall will ensure your family is warm and cozy all winter long. Possible gains from early repairs or replacements are:
There is more time to investigate your alternatives, compare models, and get several quotes when you decide to fix or replace your system before you need it for the winter.
Repairing or replacing your furnace in the summer, rather than the winter or spring when demand is highest, could save you money on parts and labor.
Extra time for financial preparations: Repairing or replacing your home's heating system is a major expenditure, so doing it ahead of schedule gives you time to save up for more affordable financing.
Our Bluco Mechanical pros are trained and ready for any HVAC problems brought our way! This NYC business has been providing HVAC services to all NY residents for a while now and appreciates doing the hard parts for them. See our google profile for our reviews and feel free to call send email leave feedback, and more! We Greatly Appreciate It!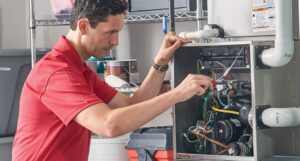 Call Now